My pack of Joylent just arrived and I opened the box straight away, this was my Christmas.
Hopefully I will convey my thoughts on Joylent/Soylent and my reasoning behind consuming it.
It actually started with this (I loved this show):
The idea was you have a meal in a pill. They just sounded quite interesting to me as a child (I was about 12 years old) as it was at the time when I wanted to know how does everything work? I didn't know food could be a thing that you could work out. As far as I knew a meal was announced, my mom would disappear for while then it appeared on a plate, it made me full. That little clip showed me that it can just be a few things that you bought and consumed. Someone worked out another, more efficient way.
A few years ago I stumbled up on a blog by Californian engineer Rob Rhinehart. He came up with a simple idea, can I give the body what it needs in the easiest way possible?
As a programmer I loved the thinking behind it, it was basically tackling an everyday occurence with a bottom up approach. It was basically a hack (which I love by the way). Essentially he figured out what does the body need to survive, the essential nutrients and then he sourced those materials from different labs, food houses across the US. Eventually he started to make it into a product and started to bring in the general public to test it. This is when it got big. There was media attention, a company was formed. They made their product of a bag of nutrient rich power called Soylent. When international orders where available, I quickly ordered mine.
I'm not going to go with the details of what it will do for you or a step by step this is what is going to happen when you start living of it. Those stories have been well detailed by other bloggers and are surprisingly similar.
Months passed and nothing, eventually after 6 months the international orders were cancelled due to high demand. I was disappointed but understood. The question was can I make it myself?
People around the world started recreating the recipe and Rob himself released the recipe for his Soylent. I found a person's excel spreadsheet with link to Amazon for all the ingredients, you just had to mix it up and blend it yourself. It looked quite easy but for some reason it just never came to fruition. I teamed with a work colleague and were going to do it ourselves… Someday. Years passed and I forgot about it.
Joylent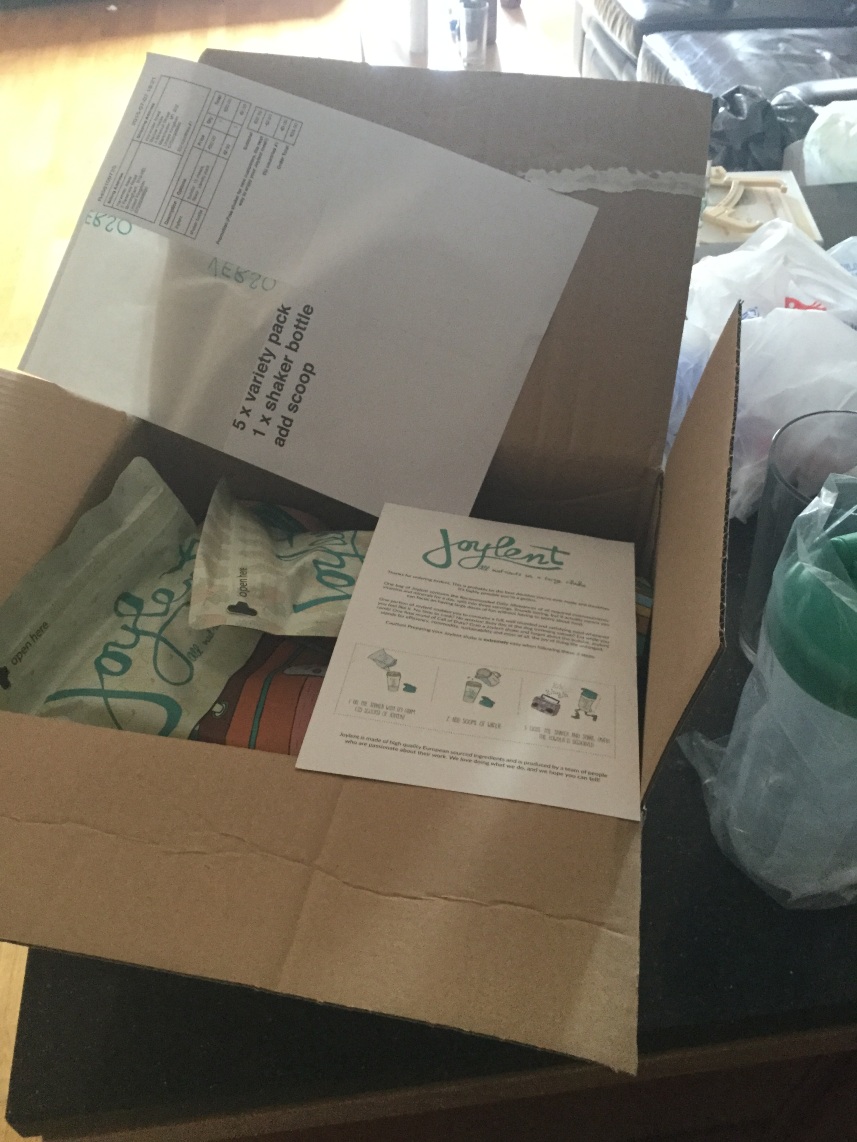 I moved jobs, locations, friends. I was temporarily placed on a job and I got talking to the people who worked there. On a chance encounter I saw a guy emptying a protein shake bottle in the kitchen:
Hey, drinking protein shakes for lunch?
Ah not quite it's like protein but it has bit more stuff.
Oh really? I know a product that was sold in the US like that from an engineer.
You mean Soylent. Yeah this is the same stuff.
My mind was like What!? How did this guy get hold of the stuff? There was no international shipping on Soylent and I was subscribed for any updates on that.
Where did you get it from? I thought you couldn't get it.
There's a company making the same stuff out of Europe. Just look for Joylent.
I put an order in for Joylent the same day. What happened was a person in the Netherlands had heard of Soylent decided to replicate the product to serve the rest of the market. It was started about a year ago and it was growing really well. Is this the Soylent replacement I've been looking for?
The starter pack finally came in yesterday and I will be trialing it for now. I will outline my future plans in my next post and see where it goes from here.