We finally got back to the Edinburgh Fringe Festival after 3 years.
First I'd recommend a quick look back at my first visit, it gives a brief overview of what Fringe is and some of the stuff we did last time.
On to the shows themselves:
Thursday Night drop ins
After driving up Thursday afternoon and a long walk from the train station we have finally arrived at our hotel. The evening started very shakily with some free shows as I figured we need something to whet the appetite.
Although unplanned, we somehow ended up in the same venue as we did on our previous first night. Only realising once we got to the same room and bought drinks from the same bar.
The first show was a simple stand up situational act. A few young comedians giving amateurish skits on various modern day scenarios, something akin to a warm up act for a larger show. Ranging from being a tennis ball boy to living with a French student, it was a bit hit and miss but worked overall. We didn't stay for the whole thing mainly due a large wall blocking our view. Note: next venue needs to have no view blocking structures.
Next we switched venues heading down to Cowgate, this was a more trendier area of Edinburgh. The next comedy show was BattleActs! an improv whos-line-is-it-anyway vibe. This had some audience interaction and made it more dynamic and engaging as a result. We pretty stayed for the whole show. The four comedians interacted quite well with each other and the input from the audience kept them on their feet. Overall the free comedy was getting better than last year. We made our way out the stuffy second floor bar and were just heading down Cowgate when I suggested we go back for our next event, Oddity.
Oddity's tag line was "Gravity. Interstellar. 2001. What do these films have in common?" I was sold by the third word. This was, I guess, what people call comedy theatre. In effect a loose and flailing plot but used effectively to deliver its comedy punch lines. Pretty high production value for another amateur production with video sequences and more silvery material used then the ISS itself, makes it just that more believable. Overall good acting in a small space. Pun intended.
After that it was time to call it a night. On the way back we did pop in for what seemed to be country jazz, held in what seemed to be an actual cow shed with bales of hay. I guess Cowgate does live up to its namesake.
Friday afternoon Whisky
After a decent breakfast we ended up past the Royal Mile to the Mecca of the Fringe festival, the Half Price hut. This is the only place you should really go to buy tickets. While there, I agreed to meet a local friend who would be taking us around for a quick drink and catch up. In reality it turned out to be the other way around. We headed back up the Royal Mile to a preferred bar, only to be greeted by a bartender who wanted us to leave (and eventually come back). Why? He suggested a whisky tasting event just around the corner, starting in 5 minutes and only £13 for 5 drams. How could we say no?
We quickly made our way there and 4 of us sat down in a contemporary boudoir lounge setting called The Liquor Library. The event was run by Solid Liquids and it was refreshing guide though the history of scotch and other whiskeys. Along the journey we had a taste of a variety of whiskeys from the almost-not-marketed-as-such whiskeys to classics such as Monkey Shoulder and Whyte & Mackay. We even sampled specific water from each of the whisky producing regions, which apparently enhanced the flavours compared to your normal tap water, my sceptic hat was flashing. The host Alan was inviting and clearly loved the whiskeys as well. We even managed to squeeze a few more drams out him before we left. The most interesting realisation from this is that I've always had good whiskys neat, no water or ice but Alan made a good point that all that's changed now and the world has moved on. Whisky has moved on and we should be experimenting with it. Hopefully I will be a bit more non-traditional with my whiskys in the future.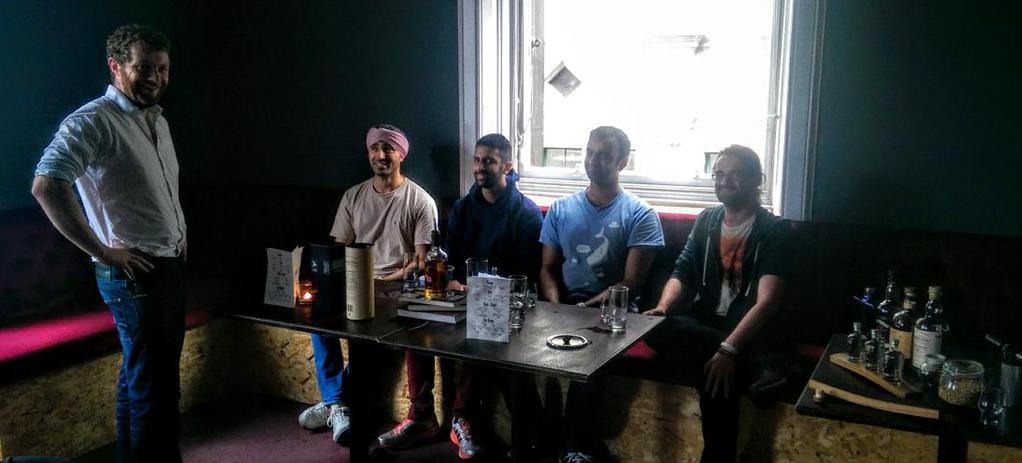 We were suitably lubricated and a bit more easy easy-going as to where we wanted to go next. The guys wanted to see a musical, which I detest with small bubbling hatred. In the past only Matt Stone and Trey Parker have managed to entertain me though that form of a 'production'. Nonetheless I was willing, damn you single malt! I sat down in a converted meeting room at the Radisson hotel, I watched and I realised I still hate musicals. I wish I could objectively review this but no, musical hate is still seeping though.
Next up was the spoken word category. Now this was held in the smallest room I have been during Fringe (possibly ever), Up Your Game was essentially a one man show which involved at one point walking around in underwear but the content was compelling.. for me anyway. It was a story of how through video games he managed to mitigate his frustrations about his sexuality and bullying in school, all rhymed and versed with the backing track of various musical game themes from the 80s to the 00s. Even as we walked in there was the main theme to Super Mario Bros. playing. This is a brilliant clip from one of his poems about Street Fighter lust. Warning: there is content here that will require 90's arcade gaming knowledge
In between getting tickets and heading up to our next show, we saw an ice skating show… with roller skates.. on concrete:
That video is actually the only content here that was mine. In my last Fringe post I did say I would take more photos and videos but I have actually taken less. MUST TRY HARDER!
Finally we ended the day with The Heist. There was some method behind this choice. It was advertised as a comedy theatre about a heist, no surprise there. This theme has played out many times in film, so I figured it should work just as well on the stage and boy did they deliver. The story was great, it was reminiscent of the original Casino Royal, mixing in absurdist characters and plot points but with the back drops of the Vatican, suave ballrooms and super giant yachts. Even the main antagonist was called Antonio Superyacht and had the classical trappings of a comedic megalomaniac. This could easily be one of the best plays I have seen in a long time. Finally the ingenuity of how they made the scenes come alive with just minimal plot devices was astounding. Some of the cast in one scene played statues that actually moved as if they were a rolling background and others held red string like a scene from Entrapment. The music was just fitting adding that crime-noir style ragtime element, just to give it that little bit of vintage class. The trailer for the show is just a small part of some of the great set pieces:
Cultural Saturday
Saturday was a hodgepodge of different themes and even some non-Fringey stuff.
After a Spoons breakfast at the well adorned The Standing Order. Seriously, it is just amazing inside. I may have to do a post on the best looking Wetherspoons pubs at some point. We headed down to the Edinburgh Book Fair just at the end of George Street, the main thoroughfare in the city, here the love of all things books was contained in a little square with book signings and a large collection of bestselling contemporary books on sale. I recognise the need to give books a better exposure but for me reading is a private affair.
After another trip to the Edinburgh mecca we had some free time before our A Cappella group was to perform. I made a dangerous choice. Up until now I have been very selective about what I wanted to see and my next choice I knew would be a big risk. We headed down to a much more quieter venue, so quiet we weren't even sure if there was a show there. We were assured it was running and took our seat in an awkward L shaped room. The next thirty minutes were going to be long, this was a stand up comedy routine from students at Leeds. I wasn't expecting much and the results was lowered even further.
We saw three acts there before loudly sneaking off and it went from average to bad. The first act had a bunch of material that was reeled off and the timing was good enough that he pulled it off. The next two just descended into heckle hell. In fact the audience were making better jokes than the comedians. Just no more needed to be said around this.
The A Cappella group seen was actually a second choice to what we wanted to see and was actually the only group that had any tickets left for that afternoon. The St. Andrews A Cappella had a good range of vocal talent on display but my thoughts kept drifting back to the Oxford gargoyles of last time and the comparison left me wanting more from this group. The Oxford lot were more polished and much better vocal range but again there were good song choices here and some inventive ways of using just the voice box as an instrument, even making their own renditions of TV adverts in between the songs.
The evening drew in to our next appropriately named venue, The Jazz Bar. Kelly was singing a few renditions from jazz singer Julie London. This was sultry 50s Jazz at its best. I can't really say more without sounding a like some hipster Jazz snob, so I'll leave it here.
The night ended with a surprise from theatre. Now a disclaimer here: Nearly everything we saw at Fringe was guided by me, my mind filtered and picked what I considered to be the best. This next choice was not chosen by me and I'm not sure if I would've picked it but I'm glad I watched it. Tripped is a simple one location drama. Taking place in some unnamed war-torn desert country two soldiers from opposing sides are trapped together by landmines, reconcile their differences and see their similarities. This was different from what we have seen so far at Fringe almost everything else had this air of comedy around it. As Fringe has marketed itself as a comedy festival, intrinsically every event we had seen so far has leaned to it (apart from the musical which I have now blanked from my memory). This show had no introduction and no credits, it just began and ended as if it were just watching through a live camera. The script was concise and deliverable, the acting superb. While other shows could get away with sloppy acting due to the intrinsic comedy, this knew it had to switch on the serious at key scenes. While there is a bit of light heartiness, it can be an emotional watch (I didn't say that). The ending was great, just leaving that bit of ambiguity to the thoughts and feelings behind the characters.
I needed an early night, so went back for a 5am start on Sunday.
Free flying Sunday
Let's not talk about this. Let's just say it involved a nice trip to the airport.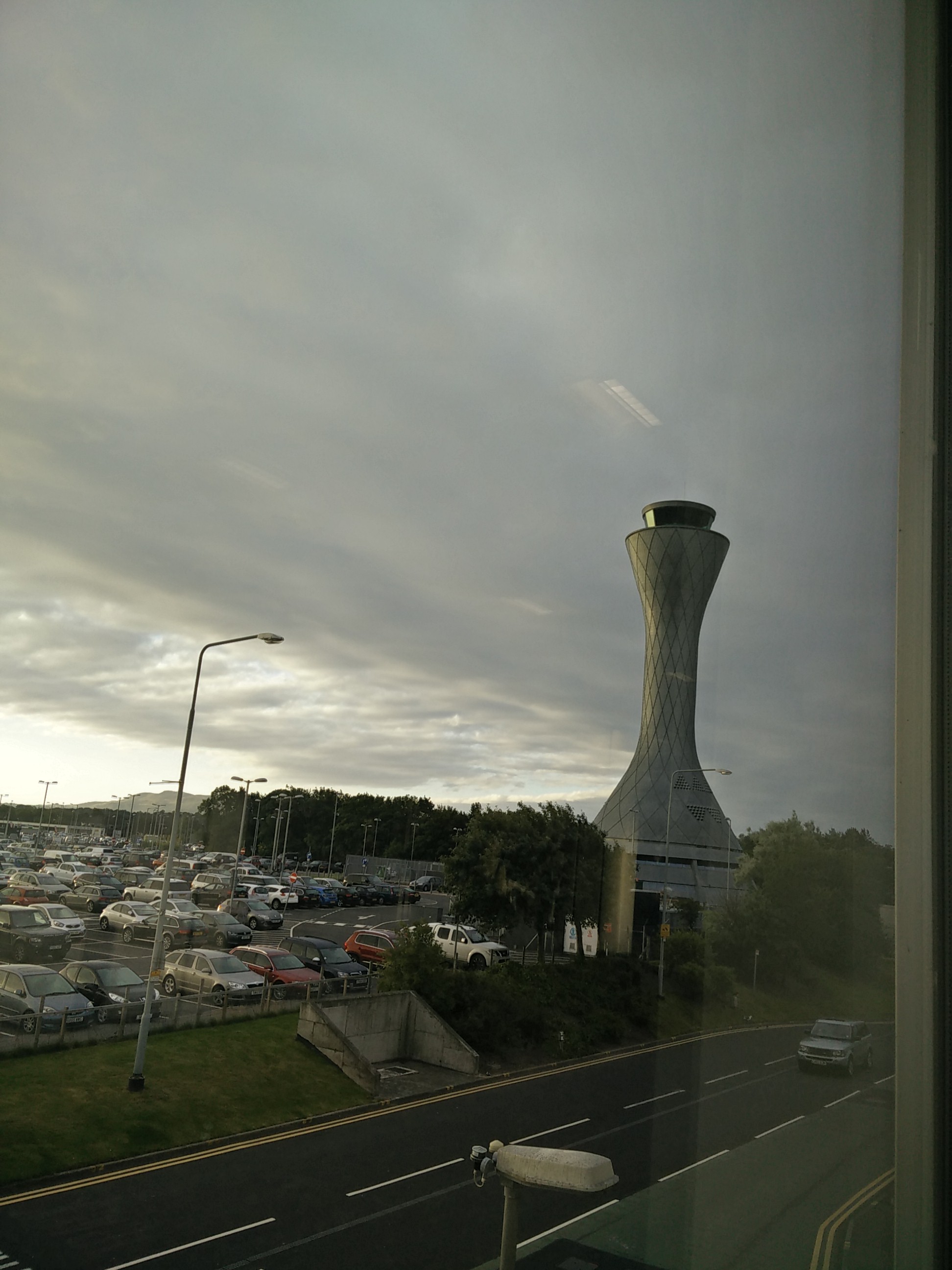 Overall
I have to say another brilliant Fringe, we had a gap of a few years since our last visit and it's hard to see why. Fringe just kept on giving day after day. Trying to keep away from the big acts and recommendations worked again, just picking something and going for it seems to be the tried and tested formula. There was still the issue of doing things on the fly meant a lot of power walking to all the different venues, if I wanted a relaxing trip then this was not it.